by Beneficial Beer Co
Beneficial Beer Stone Cold Lager 375mL
Rating: 4.857142857 out of 5.0
Pickup currently unavailable
<0.5% ABV
75 calories per serve
Full flavour
Vegan Friendly and Low Sugar
Natural Ingredients
No Preservatives
Product of Australia
Beneficial Beer Co. Stone Cold Lager is brewed for human kind, and we think you'll find it pretty damn delicious. This is a classic all malt lager, with traditional malt and estery yeast character, as well as some subtle noble hop character. It's got a lowish body, balanced with soft bitterness, making it highly drinkable and beery. In other words, exactly what you want in a beer. This lager is perfect for any occasion! Whether you're looking for a mid-week lunch beer, a big Saturday night beer, or a Sunday sesh before work beer, Beneficial Beer Co. Lager has got you covered. The beer is brewed by the IBA Indies Lager gold medalist and crafted by the very own, the legendary Bruce Peachey. So next time you're craving a beer, reach for a Beneficial Beer Co. Lager and enjoy all the flavour without any of the guilt!
Nutritional Info per 100mL: Energy 69kj / Protein 0.30g / Fat Total <0.10g Saturated <0.10g / Carbohydrates Total 3.60g Sugar <0.1g / Sodium 4mg
Ingredients: Hops, Malted Grains, Yeast, Purified Water

Customer Reviews
Write a Review
Ask a Question
03/04/2022
Ivan

Australia
02/04/2022
Adrian

Australia
I recommend this product
What an absolute cracker beer - best non-alc beer by far
Bought this along with one of the other best known non-alc craft beers which claimed to be heaps good. Must say the Stone Cold Lager absolutely leaves it for dead. Finally a non-alc beer that actually tastes like real beer. If I didn't know it was non-alc, I would've sworn it was a normal beer. Will be buying and drinking plenty more of this stuff. Great find CraftZero, and well done Beneficial Beer Co. Nothing like a great non-alc beer at the end of a hard days works.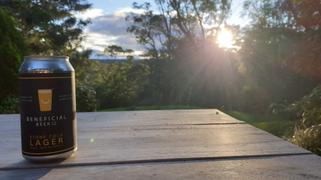 03/04/2022
Stephen H.

Australia
I recommend this product
Cracking NA beer!
I've been dry for almost 18 months and have been exploring all sorts of non-alcoholic options. This beer is my go-to for an arvo BBQ or an evening session. Highly recommend!!
01/04/2022
Matthew

Australia
I recommend this product
Get in my belly!
The majority of Aussie AF beers tend to be pale ale based, so how good is it to find a great local lager that is AF but tastes like a full strength … BBCo are on to something here … I think it nudges past the Heaps Normal Lager - get it in your collection now!
31/03/2022
Matty

Australia
I recommend this product
Good drop
Love a lager. Full on flavour but light on the belly. Well worth hooking into a case of this stuff !!